When it comes to corporate work, I've worked in the corporate sector as an actor and writer for longer than I care to remember. Have performed for companies like TIGI, Vauxhall, Life Fitness, Beckman Coulter and Nokia, to name but a few. (You can find an overall CV here)

I started corporate writing after complaining to a client by saying: 'Who writes this shit'. The client turned around and said… 'Well actually, I did. Do you think you can do better?' For me, that was a red rag to a bull, and I said: 'Hard to do worse!'
He contacted me sometime later with a brief and outline for another show. It was challenging. Technical content, Corporate Branding, Identifying the Brand. I completed the script. Afterwards, he gave me the job as the presenter. I stood there in rehearsals and thought: 'Who writes this shit!'
It has taken many years and many scripts to be able to work out what works and what doesn't. So here are some of my thoughts on the subject.
Scriptwriting for corporate videos and shows is always a daunting and exciting prospect. From the set to the performers, props, and music. It's about blending and for me requires working with a few key facts about corporate scriptwriting:
Write with purpose.
What are you trying to achieve? What is the goal of your project? These are the first questions.
Knowing the audience.
Identifying the target audience before moving onto the style and tone.
Decide on a tone.
Once we know your audience, we then determine the tone to be used.
Value simplicity.
Creating a product these days is like making an ice cream cone. The cone, candy sprinkles, and chocolate sauce are all great, but what people are really buying is the ice cream.
Shorter is better.
For a show, length is determined by not just text, but events taking place. But for a video, the shorter and more concise is always best.

Below are a few script samples. There are many and some I only have on paper and not on the computer. If you would like to see more, drop me a line.



L'Oreal and ESA live –
AN EVENING IN PARIS TOGETHER WITH PURE INSPIRATIONAL BEAUTY
The show took place in New York and was themed and inspired by the Bordellos and set to the backdrop of the French Revolution. It combined traditional chic with  inspirational beauty.
Here is the show script View PDF
TIGI and ESA live – WORLD RELEASE SHOW 2013
In 2013, TIGI developed a series of live fashion/hair shows incorporating various themes over the next few years. This was the first set to the BLADE RUNNER theme. The script was broken into two sections for performance. The object was to combine both reference to product and the theme of the show.
1st – Live Performance
2nd – VT Performance filmed by 16oz Productions
Here is the VT script View PDF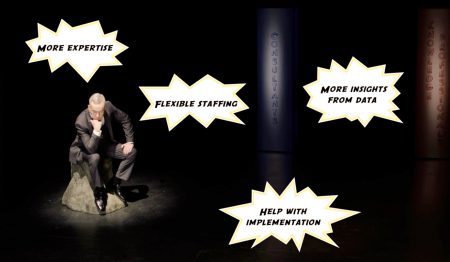 McKinsey Solutions – THE KNOWLEDGE (4 minute Video)

The brief was to get away from talking heads videos set in offices and deliver something more theatrical and engaging. I took them at their word and offered a theatre backdrop idea. The NETWORK KNOWLEDGE comprised of three elements portrayed as columns. The use of three actors in three different styles and colour, with the addition of the thinker using thought bubbles created a very popular variation for the company.
Here is the script View PDF
"It's not often you find someone with Anthony's pedigree willing to shoot video for the web. His professional approach and his willingness to go the extra mile to ensure that the video exceeded expectations made him a pleasure to work with and I would recommend him to anyone looking to add video content to their website."
Simon Heatherington – Managing Director Goodcall Internet Marketing Consultants
"A wholly professional outfit, happy to go the extra mile from inception to the finished project. A slick team producing cutting edge results that will enhance your company profile. Knowledgeable, creative and understanding to your budget and needs."
Tarquin Shaw – Young Managing Director & Head of Casting The Stagecoach Agency UK & Ireland
"I have been working with Quid in Shrapnel for some time now. Developing a level of understanding and honest co-operation has been vital. We have worked together in the corporate and film market. And the outcome I believe for both Regent Park Studios and Quid in Shrapnel has been successful."
Martin Shenton – Managing Director Regent Park Studio
"Quid In Shrapnel provide a fantastic, 100% reliable and cost effective service. The company produced two films for me, one at 24hrs notice at a Wildlife Reserve in the depths of Cumbria in very bad weather! In all respects I have found the company friendly, highly professional, able to produce top quality films with imagination, flair, but without the flashy overheads to go with it. I cannot recommend them highly enough."
Jenny Burgess – Independent Producer
"Thanks once again for a great show, great script and a great delivery. Cheers."
Mike Esa –  Managing Director, Esa Live